Stacking the Shelves is a weekly meme hosted by
Tynga's Reviews
to showcase all the books we got in the past week. Those can be bought, won, gifted, for review, borrowed, print or ebooks... no matter, just share what you got :)
After having only one book to account for last week, I've got a much bigger load this time around and they all look awesome!!
For the book tour
Surface
, by Tiffany Daune
Landlocked
, by Tiffany Daune
I'm really excited for this series because it's about sirens, and that's something I've barely read about in YA! Plus, who could resist these covers?!
Won / bought / borrowed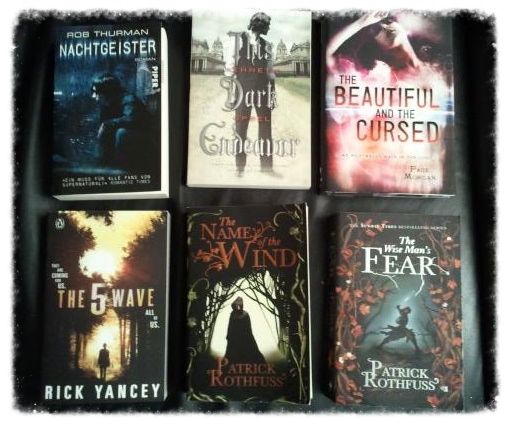 Nachtgeister (Nightlife)
, by Rob Thurman
This Dark Endeavor
, by Kenneth Oppel
The Beautiful and the Cursed
, by Page Morgan
The 5th Wave
, by Rick Yancey
The Name of the Wind
, by Patrick Rothfuss
The Wise Man's Fear
, by Patrick Rothfuss
I won
The 5th Wave
in a giveaway by Jasprit from
The Reader's Den
- thanks again! I've read nothing but great reviews so I'm curious about how I'll like it.
I borrowed the Patrick Rothfuss books from one of my BFFs and she loved book 1 so much that she ordered the second one before she even finished reading. I'll have to read those soon because she's itching to discuss them ;)
I've wanted
This Dark Endeavor
for a while because I love the idea of a Frankenstein prequel!! And
The Beautiful and the Cursed
was one of my most anticipated debuts of the year! I've already read and loved it :) Now I'm pining for book 2 *sigh*
I bought
Nachgeister
(literally it would translate to 'ghosts of the night' - one of the rare occasions where I prefer the German title to the original one) on a whim today. A book/DVD/CD store in a town near me is closing down so now everything's 40-50% off. I remember spotting this in another store and loving the description but I wanted to buy it in English. Stupid me forgot the original title and author though so that never happened... I love the German cover and I hope I'll enjoy the book despite my usual dislike of translations.
Finally, a free (last weekend) eNovella
Shadow
, by Amanda Sun
I really liked her novel
Ink
, and getting a glimpse at the main characters' life before should be interesting :)
So, that's it. I also got a couple awesome CDs and DVDs this week but those have no place here ;) What do you think of my haul, and what spoils did you carry home this week?