Top Ten Tuesday is a weekly feature hosted by
The Broke and the Bookish
. Every week they post a new topic that the participants come up with a top ten list for.
This week's topic is about the top ten books on our Fall to-be-read lists
Honestly? I don't really make lists like that, I just pick up something I've got on my shelf/kindle when I feel like it (review books are obviously different). However, all the ARCs I've currently got on my Kindle are Winter releases, so there's that. So the ten following books are ones I already own and really hope to get to this Fall.
They're listed in no particular order.
Between the Spark and the Burn, by April Genevieve Tucholke
I really enjoyed the first book! I'll have to do a partial re-read and get to the second. I hope it continues the gothic mood :)
Angelfall, by Susan Ee
It's been on my shelf for close to a year and it's supposed to be fantastic.
Game, by Barry Lyga
I loved I Hunt Killers, and now that I've finally got Game, I want to read it soon. Also, the first one creeped me out so it's perfect for Fall. That season always makes me feel like reading moody, dark books.
Mortal Heart, by Robin LaFevers
I've got a shiny ARC of this one and look forward to reading it in a month or so :) I'm very curious about Annith's story! She's been a quite shadowy figure so far and she really surprised me at the end of the second book.
Hood, by Stephen R. Lawhead
I'd never heard of this book before last Spring, but then kept coming across it in the summer as an influence on books by author's I've read. So when I saw it at the second hand bookstore, I knew it was waiting for me. I've always been fascinated with Robin Hood, and I think this one's themed perfectly for the Fall season :)
Sabriel, by Garth Nix
I've been looking at this series for at least 10 years, I kid you not. I've owned a huge 1000+ pages omnibus edition for three years. So I'll be damned if I don't finally read at least the first book this Fall!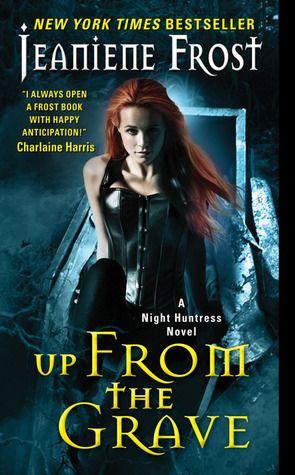 The Girl of Fire and Thorns, by Rae Carson
I've been hearing so much about this series and the cover and name make me think of Fall, so I hope I'll get to it!
The Lovely and the Lost, by Page Morgan
Another sequel I've been itching to read! Gargoyles. Paris. History. Yes, please!
Up From the Grave, by Jeaniene Frost
I'm so sad that this is the last Cat & Bones novel! But I need to read at least one vampire novel this Fall, and this series has never disappointed me.
The last pick: recommend me something dark and creepy! If it has faeries in it, cool. If not, that's also okay. But it has to be moody and horror-ish. Surprise me :)
Have you read or are you planning to read any of the books on my list? Does the season influence your taste in books? I noticed that I feel like reading a lot of high fantasy or creepy stuff this Fall. I could also have put Poison Study by Maria V. Snyder or Fire by Kristin Cashore on this list, they're both on my shelf. What about you?