I already participated in the Top of 2012 last year, and it was a lot of fun! This year, the event is co-hosted by Rachel from
Fiktshun
, Jaime from
Two Chicks on Books
and Mindy from
Magical Urban Fantasy Reads.
If you haven't signed up yet and would like to participate, I think you can still do so as long as you post today! Just click one of the links above and enter the linky.
Today's topic is about the best books we've read in 2013, no matter whether they were released this year or not.
You guys, this is so hard >.< I was very lucky with my reading this year, though I'm embarrassed by how few reviews of those amazing books I've posted *sinks through floor in shame*
Alright, I had to make three lists. One for YA paranormal/fantasy, one for contemporary, and one for adult books. All books are listed in no particular order
YA paranormal/fantasy/dystopian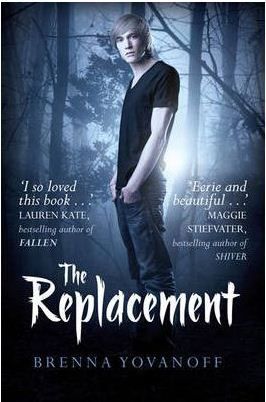 Divergent - Veronica Roth
Better late than never, right? I started the series in January and I was blown away!! The wait till October was very long... but also very much worth it! Still, I think Divergent remains my favorite of the trilogy. I felt so... alive, while I was reading it.
The Replacement - Brenna Yovanoff
This has been part of a ton of my Top Ten Tuesday posts this year! But I loved it soooo much. It's got sticky notes all over it. It was so sad, it made me ache. And cry. I just felt with Mackie so much. I'm definitely re-reading this one in 2014!
The Coldest Girl in Coldtown - Holly Black
I already loved the short story with the same title, and when I heard there'd be a book, I was beyond excited! I just love Holly Black's prose, and she delivered once more. So many fantastic passages, as well as one of my favorite kisses of the year. I find the entangling of desire and disgust, fear and longing, debauchery and decay that I see in all of her books incedibly alluring.
The Name of the Wind - Patrick Rothfuss
I gave this to a friend for her birhtday, and after she read it, she demanded I do, too. There was a part that was a bit slow, but overall I was blown away and my love for epic fantasy is rekindled. I've got the second one on my shelf and I'm so glad book 3 will be released next year! You can read my review
here
.
The Pledge - Kimberly Derting
This one was a total surprise! I didn't expect to love it quite so much, I was mostly drawn in by the combination of dystopia and different languages for every class in that society (me being a Lit student and all). It was sooo good though! I had so many characters pegged wrong, and I loved it.
Crown of Midnight - Sarah J. Maas
I read Throne of Glass in January, but that book had some flaws for me. All the little bits I had thought weak were gone in Crown of Midnight. I loved the world building, the twists, the character development, the overall plot. It was simply fantastic.
The Unbecoming of Mara Dyer - Michelle Hodkin
I had put this one of for forever! Why?? I read it in one day! And it's got over 500 pages. Mara is one of my favorite heroines, and I love her with Noah. Also, it was so interesting to be in the mind of a somewhat unreliable character - made the whole thing really creepy. Book 3 needs to come out already! How am I supposed to wait another 6 months?!
Shadow and Bone - Leigh Bardugo
Another one I started late. But the world building, again - fantastic. And the Darkling? One of my favorite and most fascinating characters of the year. Siege & Storm needs to be out in the right edition for me to add to my collection already!
In the Shadow of Blackbirds - Cat Winters
Such a beautiful combination of historical and paranormal! It's sad and creepy, with heart-warming parts. The writing is incredibly beautiful, and I love that there are pictures of photographs taken around that time in there - photography being such an important theme. I'm very curious to see what Cat Winters will publish next!
Clockwork Princess - Cassandra Clare
Oh, Will and Tessa. I was both anticipating and dreading the conclusion to the Infernal Devices, since I like them better than the Mortal Instruments. I really loved the book - apart from the epilogue. I still can't decide whether I like that or not. Overall, I expected to hurt more than I did. I mean, I did cry... but
Clockwork Prince
had me prepared for more pain. I think my series-favorite here is book 2.
I'm surprised that they're rather well-balanced! 4 2013 releases, 6 from earlier. To be fair, 10 just isn't enough. There were a lot of fantastic new releases that just couldn't make the list. Embarrassingly though, only one of these I actually reviewed. If I love a book that much, reviewing seems such a daunting thing :/
Here are some runners-up:
Grave Mercy
,
Marking Time
(see review and author interview
here
),
The Book of Blood and Shadow
,
Between the Devil and the Deep Blue Sea
,
Shatter Me
,
Splintered
,
Dance of the Red Death
(my
review
).
Contemporary
For Real - Chelsea M. Cameron
I got this one on a whim and it was so worth it! It was loads of fun, the characters were fantastic and for once, I really loved the way the romance and the depiction of college life were done! I think there will be more books, but it can also stand on its own.
Some Girls Are - Courtney Summers
One of the most psychologically punch-packing books I've read this year. I had a hard time identifying with the protagonist at first, but when her torment started... no one deserves that. And I wanted her to stand up and destroy her enemies. The romance-y parts were also very complex, and it deals with a lot of teen (and adult) issues like bullying, rape, suicide.
Crash Into You - Katie McGarry
I wanted Isaiah's story ever since we got to meet him in Pushing the Limits! Really loved reading from his point of view and getting a glimpse at his head. I won't say much more here because my review is still forthcoming.
Looking For Alaska - John Green
My first John Green book. Lovely, lovey prose! Unusual characters. The pranks were awesome. I kind of already knew what would happen, but it still hit me like a surprise, as if I didn't. Definitely reading more John Green in the future.
Easy - Tammara Webber
One of my favorite NA books I've read this year. It's hard to write a romance that I can really get behind, but I did with this one! Again, lots of important issues tackled - this one is definitely more than just a piece of fluff. I hear there's a book from Lucas' POV coming, and I'm very curious about that!
Losing It - Cora Carmack
I laughed until I cried. Seriously, this was so much fun! The embarrassing parts were so that I could still get through them without too much... pain (I have a hard time reading/watching embarrassing things. It feels awful. But here it was still funny, too).
The Sea of Tranquility - Katja Millay
Another heavy book, but with beautiful writing and a wonderful story. I can't put this into words here, but I did (or at least tried) in
my review
.
Just One Day - Gayle Forman
Another one that made me cry, but it also made me very happy and determined to travel more. After reading that, I dove right into If I Stay, and then I bought Where She Went the next day and read the whole thing. That's how good Gayle Forman is.
If I Stay- Gayle Forman
See above. Also, one of the best book-families I've read! Which makes what happens all the sadder.
Perks of Being a Wallflower - by Stephen Chbosky
I saw the movie first, and I think it's perfect. But the book provided a lot more details that were sort of glossed over in the movie, and I think that in the movie, you don't really understand just how bad Charlie is really off, emotionally.
Runners-up:
Emancipating Andie
,
Confessions of an Almost Girlfriend
,
Rule
Adult
Fever Series - Karen Marie Moning
At first, Mac was not my kinda heroine. But the whole Barrons thing and the Dublin setting and the fae kept me intrigued. Then, from book 3 onwards, it's pure awesomeness! I read them all pretty consecutively. Don't know how people survived the wait between books.
A Discovery of Witches - Deborah Harkness
My friend bugged me to read it for a year before I gave in - fantastic book! I loved the academic setting and the history. The romance didn't hurt, either.
Night Angel Trilogy - Brent Weeks
This whole thing is more than 1500 pages fat. And I read it in one week. That should tell you how utterly fantastic, cruel, beautiful, harrowing, well-written and... everything it is. Seriously, if you read one epic fantasy in 2014 - read this one.
Blood Rights - Kristen Painter
I thought vampires had 'been done', but Kristen Painter makes it new! The world buidling and the whole vampire and commarré society in these books are amazing! I really need to get the third one.
Debt Collector - Susan Kaye Quinn
This one is a self-published serial, and it's a mixture of science fiction and noir. It's very addictive! Very dark, too. And gritty. Needless to say, I just gobbled it up... I read about 5 of those stories in one day because I just couldn't stop.
Graceling - Kristin Cashore
Another one I'm late to the party for. Not sure if this could be YA, but it felt more adult to me. The plot was a bit predictable sometimes, but I loved the characters and the way the romance developed. Katsa is one of my favorite heroines of the year.
Blackbirds - Chuck Wendig
Dark and disturbing. It's been a while since I've read a good horror novel, and Chuck Wendig defnitely made me appreciate them again! I love me some good cussing, too - and there's plenty of that in this book. I still have many questions though, so I'll need to get the next one soon.
No runners-up here, because a) I didn't read that many adult books this year, and b) I kind of cheated and put in whole serieses instead of singular books. But since I read the entire series in 2013, and I think that still counts.
This was soooo hard! Have you read any of your picks? Did you like them? Also, if you're participating in the event, please leave a link so I can check out your post :)